PROVE PROVENANCE. INCREASE VALUE. DETER FRAUD.





Catalogues from the 1880s to the present day

from all the major auction houses.



NEW DIGITAL SCANNING SERVICE - 40,000 AUCTION HOUSE CATALOGUES FROM 1950 TO DATE, NOW AVAILABLE FOR RESEARCH. The Catalogstar has scanned 40,000 catalogues so that provenance, exhibition, publication and essays are all available by digital scan. This is critical to researching provenance, which is increasingly important to underpinning value and avoiding title disputes, fakes and fraud.
Catalogues from leading auction houses around the world, including Sotheby's, Christie's, Bonhams, Phillips have been scanned into the database. The cost is £5 for a scanned lot with discounts on volume. TO ORDER YOUR SCAN, SIMPLY NAVIGATE TO THE RELEVANT CATALOGUE AND GO TO CHECKOUT, OR ORDER THROUGH OUR SCANNING SERVICE PAGE, BELOW.
We have significantly added to number of catalogues containing the indexes of artists whose work was sold in the auction. More than ever before you will be able to look for either obscure or well known artists listed in the catalogues we sell simply by using the artist's name as the search term. No other site offers this facility.
Shipping is calculated on the basis of the specific weight of each order and parcels are dispatched daily. Currently we offer mail shipping to every country. You also have the option of a courier service if you wish to get your catalogue(s) urgently. Please consult Shipping Rates and Times for further information. Our envelopes and parcels are sent from our new customized facility in New Delhi, India, though we are a VAT registered UK company based in Westbury.
We have acquired the archive of a major art and antique research service who no longer have use for their thousands of catalogues. Many of these have ticks and marks within them. This is clearly indicated in the description of each catalogue and if you are simply looking for information this will allow you to acquire catalogues in imperfect state at discount prices - see Condition of Catalogues for illustrations and details.
Still can't find what you want? Contact us – we may have it among the catalogues yet to be entered onto the database. Need to find out if the item you want is listed or illustrated in a particular catalogue? Contact us – we will look, for you at no charge. Need a scan of particular pages of a catalogue and cannot wait until it arrives by post? Go to - Scanning Services and use our quick scan service.
Pay easily by credit card or Paypal. Credit card payments are processed through Paypal but it is NOT necessary to have, or open, a Paypal account to use this facility. We accept bank transfers in sterling, with bank charges paid by yourself, for orders over £50.
Use our advanced search to pinpoint your particular need or browse by category. Our "Saved Search" feature allows you to automatically receive email notifications when a newly listed item matches your registered searches. An unlimited number of searches can be entered and a discount coupon given for immediate use the first time you register a search.
We suggest you register with us first (no charge!) before adding items, to take advantage of the intelligent shopping basket which retains all items in it ready for your next visit. You can add or delete at leisure, and proceed to find out the postage cost prior to making your purchase.
Prepay for purchases if you want. You have 2 years to use this credit and these coupons can be given as gifts or used by regular buyers. They are available in multiples of £100 can be purchased here.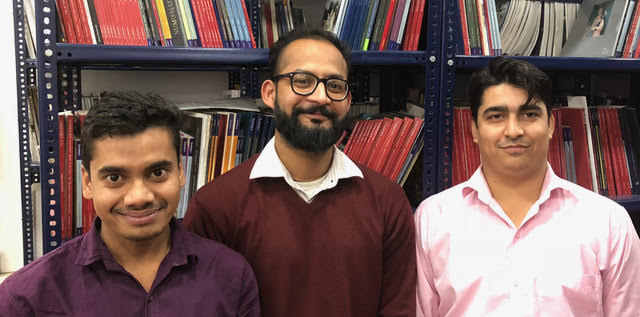 Our team in New Delhi (right to left - Sahil Kumar, Pradeep Bisht and Aryan Chauhan) is ready to provide you with any further information you need on specific items, carefully pack and send your purchases out as soon as your order is received. Our catalogues range from recent publications to those that date back as far as the 1880s. Some are obscure rarities, others just hard to find. In many instances we have only the one copy of each auction catalogue available. If you see it and want it, please buy it because it may be months or even years before another copy becomes available.

We hope you can find what you are looking for - please enjoy our site!

Any suggestions, problems or enquiries, simply contact us or by telephone on 0044 1225 829090, during UK business hours.

Our delivery services will be delayed due to Covid-19.